The first edition of the SAVE tour reached the central-southern parts of Italy.
The tour of Italy lasted about 6 months, from October 2018 to May 2019, and crossed 8 regions from the north to south, with 7 stops in the areas affected by the earthquake, for a total of 22 stages.
The regions involved in the first edition were:
LOMBARDIA, MARCHE, UMBRIA, ABRUZZO, MOLISE, PUGLIA, BASILICATA, CAMPANIA, LAZIO.
The tour started on the 29th of October from Pesaro where it stayed until the 31st of October, World Savings Day, and ended its tour in Rome.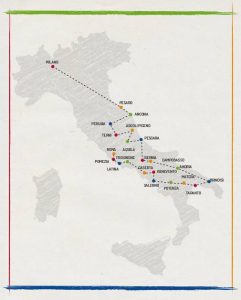 The second edition of the SAVE tour started in Turin, home to the Museo del Risparmio, it then went on to Genoa where it stopped to celebrate the Festival of Science, and continued its journey through Italy's islands and southern regions. From October 2019 to March 2020, the second edition of the S.A.V.E tour crossed Italy from north to south, stopping in five regions (Piedmont, Liguria, Sardinia, Sicily and Calabria).
An early closure of the project become necessary, due to the urgent measures for the containment and management of the Covid-19 epidemiological emergency in Italy. The stops in the last five cities (VIBO, LAMEZIA, CATANZARO, COSENZA, NAPOLI) were cancelled in accordance with the government decrees.